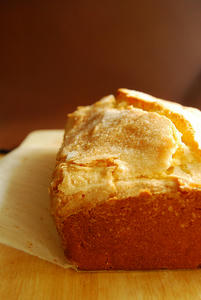 I am that type of person that usually drifts towards the more chocolate offerings on a dessert menu. I am, by far, unapologetically and absolutely, a chocolate person. The darker, the better. The more layers of it, the happier I am. Chocolate chip brownies a la mode with chocolate ice cream? I am all for it. Chocolate soufflé with chocolate sauce
tube amp
? Yes, please. Nothing pleases my soul more (except for chicharon and bacon which are, to me, chocolate's savory equivalent…a gift from the gods).
That said, I also have this uncanny, and opposing, love for plain yellow loaf cakes. Yes, true. I won't even say pound cakes or butter cakes because they don't really have to be either. They just have to be a sunny, unfancy
Maid Agency
, yellow loaf and the same part of me that loves hot chicken soup and my baby pillow cries out for it. There is something in its comforting solidity, its familiarity and plainness, that makes me want to take a thick slice and just cozy up to it.
They are also, usually, a breeze to throw together, so a craving is never too far from sated. This one is no exception. It's been on my to-make list since I bought this cookbook, my beloved copy of Nigella's How To Be A Domestic Goddess. Predictably though, I was waylaid by several chocolate recipes before I could get to this one. I'm so glad I finally did.
Nigella's Mother-in-Law's Madeira Cake
(slightly adapted from Nigella Lawson's How To Be A Domestic Goddess)
240 grams softened unsalted butter
200 grams caster sugar
nuhart
, plus 2 tablespoons for sprinkling
Grated zest and juice of one lemon
3 large eggs
300 grams all purpose flour
2 1/2 teaspoons baking powder
- Cream the butter and sugar until light and fluffy, and then mix in the lemon zest.
- Add the eggs to the butter/sugar mixture, one at a time, with a tablespoon of flour for each.
- Gently mix in the rest of the flour, to which you have whisked in the baking powder. Add the lemon juice and mix until just combined.
- Scrape the batter into a buttered and parchment-lined loaf pan and sprinkle the 2 tablespoons sugar on top. Bake in a pre-heated 170C oven for 55 minutes – 1 hour or until a skewer comes out clean.
- Remove from the oven to a wire rack and cool in the pan for 10 minutes. Remove from the pan and cool completely on the wire rack.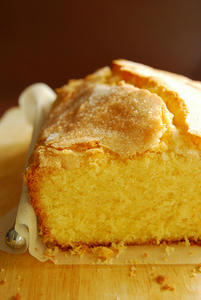 I've amended this recipe somewhat as the original calls for self-raising flour, which is hard to come by in these parts, so I substituted with regular flour and baking powder. Nigella also let's this cake cool completely in the tin on a rack but I prefer to remove the cake from the tin after it's cooled for about 10 minutes.
Let me just say, at this point, amendments aside, that this book has yet to fail me. All the recipes I have tried thus far I have liked, if not loved. My first ever post on this blog, seven years ago, was about the Burnt-Butter Brown-Sugar Cupcakes from this book. I've also tried the Dense Chocolate Loaf Cake, Store-Cupboard Chocolate Orange Cake, and Torta Alla Gianduja…all to great response. I even love her Spiced Apple Chutney, which I have made many times since, and has served me well in the homemade gift-giving department. So, firstly, thank you Nigella!
This recipe one is no different from the others I've tried – a winner. For me at least who does love this sort of cake, and even for C who usually doesn't. It bakes into a wonderful golden loaf, with a soft buttery crumb, and a sugar encrusted, crackly top. A traditional British teatime cake, I can also imagine this would make an excellent base for that other traditional British sweet, the trifle. Nigella's, or rather, Nigella's mother-in-law's version is light and lemony. It is lovely on its own (or indeed with a cup of tea) or topped with fruits and cream, or, if your feeling indulgent, a generous scoop of ice cream.
The week's almost over so hang in there troops…heat and power outages be damned! And here's to baking your cake, no matter what flavor or color, and eating it too!
PR