This is named after the sandwich not the cuisine. I love Cuban food and I have my time in New York City to thank for that. I had no idea how good Cuban food was until then. I had no clue that this sandwich even existed until I walked into a Cuban deli and got my first taste of the ultimate ham and cheese, and then I made this meatloaf or I should say hamloaf. If you like ham and cheese you will find yourself craving this meal. I serve it with Cuban Black Beans and Fried Plantains but it is equally at home with mac' n' cheese and stewed green beans, for that matter tomato soup. I make this in a pie pan for a reason. It is the topping to meat ratio. The flatter the meatloaf the more topping, and the topping is as important as the meatloaf, or at least to my mind it is.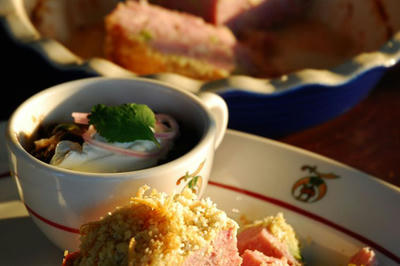 Serves 6-8
1 1/2 pounds ground pork
1 pound ham, 1/4 inch cubes
1/2 cup cucumber, peeled and 1/4 inch dice
1 cup comte, gruyere or emmanthaler cheese, grated
1/2 cup plain bread crumbs
3 tablespoons whole milk
1 egg
2 teaspoons kosher salt
1/2 teaspoon black pepper
.
1/2 cup comte grated
1 tablespoon unslted butter, melted
1/2 cup plain bread crumbs
3 tablespoons Yellow mustard, not Dijon, maybe Nathans hot dog mustard
kosher salt and pepper
Pre heat the oven to 350 degrees. Place the breadcrumbs, milk and egg into a mixing bowl and mix to combine. Once the bread crumbs have absorbed liquid add the ham, pork, cucumber and 1 cup of comte cheese. Season with 2 teaspoons of kosher salt and 1/2 teaspoon black pepper. Mix with your hands, paddle attachment of a mixer or a spatula but mix it well. In another bowl combine the 1/2 cup of comte, 1/2 cup of bread crumbs and the melted butter and mix. Season it with salt and pepper. Grease a 10 inch round and 2 inch deep pie plate. Place the ground meat mixture into the pie plat and flatten it to fit. Using a spatula spread the 3 tablespoons of mustard evenly across the meatloaf and then spread the bread crumbs evenly across the top too. Bake for 1 hour and 15 minutes and them check to see that it is done. If not cook a 15 more minutes. Let rest for 10 minutes. Slice into wedges and serve.
PR