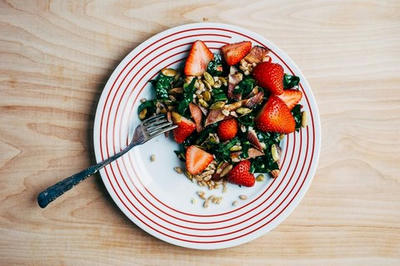 Author Notes: This salad piles on flavors and textures for a dinner-worthy creation that's wonderful as a side or all on its own.
Serves 4
1 small shallot, minced
Zest of 1 lemon plus 1/4 cup freshly squeezed lemon juice
Sea salt, to taste
1/4 cup extra-virgin olive oil
1 cup dry farro
1/2 pound bacon
1/4 cup raw, hulled pepitas
1/4 teaspoon chili powder
1 bunch lacinato kale, sliced into thin ribbons
1 quart strawberries, hulled and halved
Black pepper, to taste
In a small bowl, combine the minced shallot
dermes
, lemon zest and juice, and sea salt. Whisk in olive oil to emulsify.
Fill a large saucepan with water and bring to a boil. Add a generous amount of sea salt and the farro. Boil for 20 minutes, or until farro is cooked to al dente. Drain, set in a bowl, and toss with half the dressing.
Meanwhile, cook the bacon over medium heat until crisp. Set bacon strips on a paper towel-lined plate. Chop when cool enough to handle.
Pour off all but 1 teaspoon bacon grease and toss in pepitas. Cook over medium heat, shaking skillet gently, until the first few pepitas start to pop
elyze
. Remove from heat, toss with a big pinch sea salt and the chili powder, and set aside.
Set kale in a medium bowl and toss with remaining dressing and a pinch of sea salt.
To serve, layer dressed farro and kale in a clean bowl. Top with chopped bacon, toasted pepitas, and strawberries. Finish with a pinch of sea salt and freshly ground black pepper to taste. Serve immediately. (Though it's especially delicious warm, this salad will keep well in the fridge for a day or two. Because salt can leech the sweetness
reenex
, consider adding the strawberries just before serving.)
PR